USA Bocce is the home of bocce in America, composed of certified USA Bocce organizations (country clubs, park leagues & federations, hotels, and restaurants & bars) and USA Bocce Certified Professionals — all driven to grow interest and participation in the game of bocce.
Growing exponentially in America.
USA Bocce will host the first LA Bocce Open on Sunday August 20, 2023 in Pacific Palisades, California, at one of bocce's premier homes — Veterans Gardens.
Players from Los Angeles city and county are able to compete in this Mens and Womens Doubles, single elimination championship.  
The home of bocce in America
Welcome to the official home of bocce in America.
Bocce is the fastest-rising social sport in America with 25,000,000 players — played in private country clubs, park leagues, hotels and resorts, business centers, bocce venues and homes all across the country.
COUNTRY CLUBS WITH ROBUST LEAGUES
2ND MOST POPULAR SOCIAL SPORT IN AMERICA
Blank
Your content goes here. Edit or remove this text inline or in the module Content settings. You can also style every aspect of this content in the module Design settings and even apply custom CSS to this text in the module Advanced settings.
1. BEL-AIR BAY CLUB
Bel-Air Bay Club is one of the finest bocce clubs and programs in the country, celebrating it's 13th year anniversary this year.
In a private club on the beach in Pacific Palisades, California with 750 members, 250 enthusiastically play in weekly bocce leagues.
The strength of their club is in the 'other': with exceptional social events and tournaments around bocce.  (Many of the best attended events of the year are their regular Bocce Soirees.)
Bel-Air Bay Club has exceptional leadership in their Athletic Director, Brandt Jeffers; and in their General Manager, Bill Howard.
Along with their neighboring club, the Beach Club, they have an exceptional bocce rivalry event (The Bay Cup); that is layered in traditions and touchpoints that create a lasting and formidable perennial event.
They continue to evolve and re-shape all events, documents, formats — to best accommodate the appropriate balance of competition and social.
Bocce continues to generate extraordinary revenues from food/beverage — while, more importantly, creating memories and bettering members' experiences.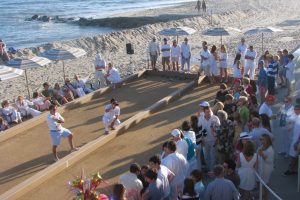 2. BLACKHAWK COUNTRY CLUB
Blackhawk Country Club, a spectacular multi-dimensional country club in Danville, California (south of San Francisco) has an astounding 830 of its members playing in weekly bocce leagues!
Exceptional leadership of Kevin Dunne and Program Manager Erin McDermott have created an astounding environment for success.
Blackhawk, along with 4 other great bocce clubs in their area, compete in a once-a-year championship — declaring the best club in the area.  (The average league players at these four local clubs is north of 500!)
They have a club team that travels to play in matches to play the best teams in Southern California — and they've recently added two more courts to address their growing demands.
Cheers to Blackhawk Country Club and its great leadership.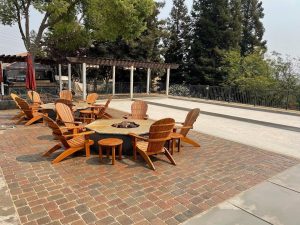 3. HIGHWOOD BOCCE CLUB
The Highwood Bocce Club, started back in 1969, has been growing and improving ever since, giving generations of players the opportunity to enjoy this extraordinary home for bocce.
They're the home to robust leagues almost every night of the week, and they were chosen to be the site of the first World Cup event ever held in America.  They've also hosted the Women's Pan American Bocce Championships.
They recently hired one of the top court creators, Colleoni from Gorgonzola, Italy — installing world-class surfaces on all our indoor courts.
But the heart of the club is in the member's play — they've created an extraordinary sense of community with their members, sharing in the incredible social game of bocce.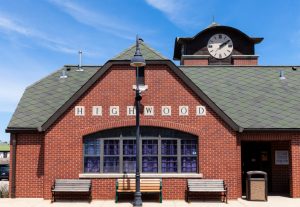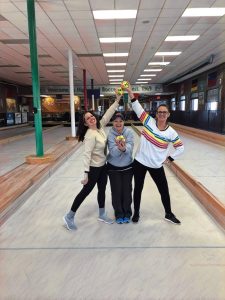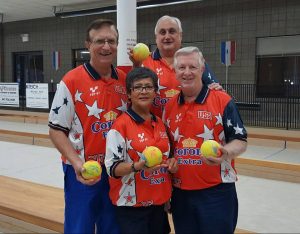 5. ITALIA-AMERICA BOCCE CLUB
Founded in 1975, the St. Louis Bocce Club is one of America's best indoor courts and clubs.
With 5 courts, the Italia America Bocce Club has been the host to many events, including seven National Championships since 1990, the North American Championships, as well as a variety of tournaments and fundraisers.
It's a 'town center' for its members — with a strict rule that the bar won't stay open past 1:30!
The members literally built the club — and you can feel the heart of the membership everywhere you look at this fabulous home of bocce.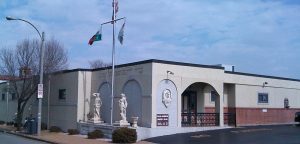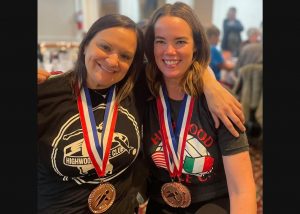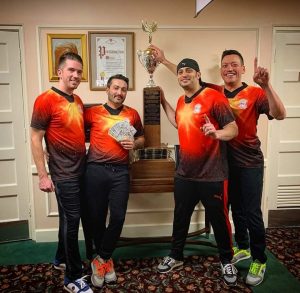 4. THE BEACH CLUB
The Beach Club started a bocce program only 4 years ago, but its growth has been absolutely extraordinary.
Before they finished building the oyster-shell courts (they're some of the best manicured oyster-shell courts in the country), they already had 250 members signed up for leagues.
As you play, you're on the beach looking out at the Pacific Ocean.  It's magical on a summer evening.
Incredible, happy, engaged members have packed leagues on Wednesdays and Sundays — with teams of every age imaginable.  Food and beverage revenues are through the roof.
They have an incredible "Bocce Soiree" tournament where the staff of the club makes up all the teams — with hundreds of members cheering them on at one of the biggest cocktail and dinner parties of the year.
The setting, the surrounding area around the courts, the maintenance of the courts, their Athletic Director — all make extraordinary ingredients in their soup to create experiences for their membership.
Congratulations to an amazing club and leadership team…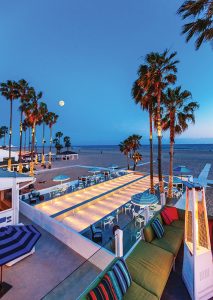 BIRNAM WOOD COUNTRY CLUB
It's hard to imagine, but Birnam Wood started their bocce program this June.
It's an extraordinary case study on how bocce, in a country club environment, can immediately create belonging.
Birnam Wood is an exceptional country club in one of the most desirable towns in the country — Montecito, California.  It has a stunning golf course, and an extremely active membership playing tennis, pickleball — and socializing.  Memberships are growing exponentially — with tremendous buzz around this club.
Top it off with first-class leadership from the GM down.
Regarding bocce, Birnam Wood had 2 courts – that were rarely used and without any league play.
Enter USA Bocce and Jimmy Dunne in early June.  The club's objective was to use bocce as a catalyst to engage members (on a dead night in the club) — and try to get a little momentum around creating an additional new 'destination' sport/activity.
Fast-forward two months later.  185 members in the league from 30 to 95.
So enthusiastic about bocce, and about creating new friendships on their 16 new teams. 
They just had their first summer league season's Championships. 
Here's a video that USA Bocce's Jimmy Dunne created for Birnam Wood; taking the photographs and videos and editing/producing the video:
Blank
Your content goes here. Edit or remove this text inline or in the module Content settings. You can also style every aspect of this content in the module Design settings and even apply custom CSS to this text in the module Advanced settings.
1. CAMPO DI BOCCE
Campo di Bocce may be the most celebrated bocce homes in America, with 3 extraordinary facilities in Fremont, Liverpool and (the first Campo di Bocce) Los Gatos, California.
As they say, it's "The Bay Area's destination or food, fun and bocce. Each Campo di Bocce is an Italian restaurant with 8-bocce courts, bar, patio and private event venue."
But it's so much more than that.  The resin-based courts are spectacularly maintained.  Their passion and reverence for the sport of bocce is peerless.
They have astounding league activity drawing from surrounding areas of each facility — with every imaginable level of play.
They also are the home to world-class players that compete on the international stage.
All of their facilities include 8-world class, state of the art resin bocce courts, a full-service Italian restaurant, a sports bar with local wines and beers, large patios and covered outdoor courts, a private dining room and private patio, and ample parking.
They're a proud sponsor of Special Olympics play and tournaments, and have an exceptional business catering to the corporate community.
Campo di Bocce strives to be a leader in the promotion of bocce on all levels — with exceptional, consistent league and event management.
The have a great sense of balancing competition and fun — reading the crowd.
With multiple league nights, local and regional tournaments and playing host to large scale National Championships and International competitions, Campo di Bocce is a true champion of bocce in America.
2. PALAZZO DI BOCCE
Michigan's Pallazzo Di Bocce is arguably the single greatest bocce facility in America — with 23,000 SF full of bocce love.
You can feel it's founder, Anthony Battaglia, in every square inch of this amazing bocce home.
Palazzo di Bocce combines an upscale atmosphere, fine Italian food, and the casual, social aspect of the sport of Bocce to provide a truly unique, reasonably priced sports-entertainment venue ideal for holding corporate and convention events, social gatherings, league play, and tourist entertainment.
At 32,000 square feet, the interior space simulates an Italian Palace (a Palazzo) Courtyard with imported tile and mosaic floors, soaring ceilings, and numerous large fountains. Furnishings and fixtures reflect the European tradition of fine woods, marble, and granite interspersed with several twenty-first century touches.  It's open 7 days a week…
The 10 bocce courts, sunken 16″ below floor level so as to be visible from the dining room, are finished in the finest synthetic court surface in the world. The three part epoxy resin surface on the courts provides level, quiet, consistent play and is suitable for world championship level competitions.  Each court is ADA approved, with access provided via portable alloy ramping.
The Courtyard area, used primarily for special events, has the same finish materials and atmosphere as the dining area but possesses the ability to open to the weather in the warmer months. As a flexible use area, it contains separate bocce courts, it's own bar and restroom areas, and special separately zoned sound and AV capabilities to meet the needs of corporate and social meetings, events, and fund raisers.
The restaurant has 120 seats in the dining room and another 30 seats in the bar. Additionally, Palazzo di Bocce has banquet/event capacity for 200 guests for private functions.
The inclusiveness of bocce, combined with the exceptional value provided by Palazzo di Bocce, makes this a one-of-a-kind concept. The inclusiveness of bocce allows all members of a group to participate in the activity.
Unlike golf outings, bocce can be played year round and the attendance is not limited to experienced players. The groups are also not spread out over several acres in groups of four; rather, they remain together for the duration of the event, enabling interaction between all attendees.
Other participatory athletic outings may require overt physical exertion or be off-limits to the disabled. Bocce can be enjoyed by one and all with little effort or experience.
There is no advantage to being young or old, disabled or not, strong or frail; everyone is on an even plane.
Palazzo di Bocce.
As good as it gets.  Full of love.  Full of great bocce.  Home the best players in the world.  Home to the happiest bocce players in the world.
3. PINSTRIPES
Founded by Dale Schwarz, Pinstripes is growing exponentially in the space of combining social sports and the restaurant business.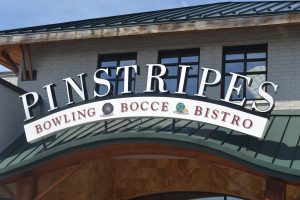 They're the home to bocce, bowling and dining.  With lots of drinks no matter what you're playing.
With 12 locations around the country, and under smart, patient leadership, they continue to grow while continuing the raise the bar with each new venture.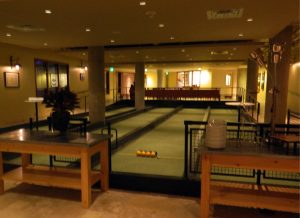 They're the home to corporate events, league play — and families and groups coming for a great day of fun.
Pinstripes is about to start a venture with Hudson Bay Company, Saks Fifth Avenue and Lord & Taylor — exploring ways to incorporate bocce and Pinstripes into the shopping experience.
Congrats to Pinstripes, and we're all rooting for you to continue to garden the sport of bocce in cities all across America.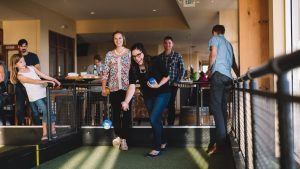 Blank
Your content goes here. Edit or remove this text inline or in the module Content settings. You can also style every aspect of this content in the module Design settings and even apply custom CSS to this text in the module Advanced settings.
1. MARIN BOCCE FEDERATION
One of the great stories of bocce in America is the Marin Bocce Federation.
It was a seldomly-used 'dog park' in Marin County — on the outskirts of San Francisco in great family town of San Rafael.
A group of bocce-lovers convinced the city to let them put in a couple bocce courts — since no one was using the park anyways.
Two courts grew into more courts, and the rest is history.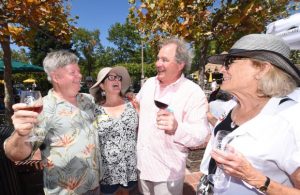 They now have 1,600 players on 160 teams.
There are 3 morning leagues and 5 night leagues.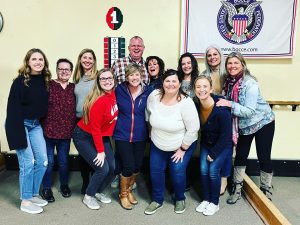 This is the size of their staff!
Here's the staff they need to take care of their enormous league play, corporate events — and food and beverage facilities.
Absolutely great leadership, astounding passion, and a world-class bocce facility are their secret ingredients of success.
There is so much for all clubs in the country to learn from this amazing home of bocce.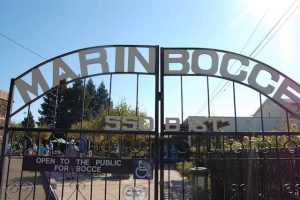 2. MARTINEZ BOCCE FEDERATION
Arguably the largest bocce league in America, Martinez Bocce Federation in Martinez, California is the home to 15 courts and 2,300 bocce players!
They have 5 divisions of play, with the "A" division for the most advanced players — down to the "E" division where fun and friendships are center-stage.
A 501 c3, they have regular Board Meetings, continually updating and strengthening this astounding program.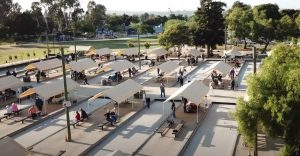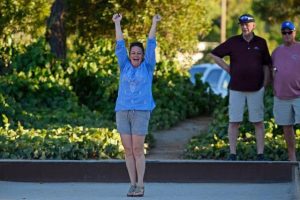 3. PALISADES BOCCE CLUB
Palisades Bocce Club, at Veterans Gardens in Pacific Palisades, has been the home to 845 town bocce players in the past two years.
A number of Palisadians raised monies to reimagine an area of its town park, creating a 501c3 to build three world-class liquid resin courts in an extraordinary gardens setting surrounded by the mountains and the Pacific Ocean.
The largest growing demographic in the town is senior citizens.  Now there is a robust daytime league where hundreds play every week on team, and lunch together — and have made new friends for life.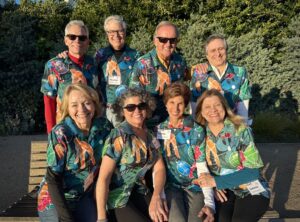 A league for all ages imaginable is every Tuesday, Thursday evenings and sometimes Sunday afternoons — and it's the absolute talk of the town.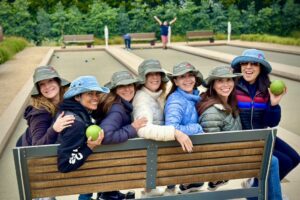 Weekly newsletters chock-full of pics and videos, a sophisticated "24/7 Dashboard," Martel balls, and so much more create lots of sizzle.
Website:
www.veteransgardens.com
4. STAMFORD BOCCE LEAGUE
Home to a robust league and community program, the Stamford Bocce League has 32 teams full of players from age — and numerous teams chomping at the bit to get in.
It's in the City of Stamford, Connecticut, with 8 lighted bocce courts at Scalzi Park.  League play is played every night of the work week — throughout the spring and summer months.
7 of teams are players under 30 years old — mixing it up with Gen X's, Baby Boomers and Seniors.  It's an extraordinary example of a town using the game of bocce to fortify all of our yearning for 'community' in our lives.
They're a well-tuned machine with 'First Captains' Meetings, and Second Captains' Meetings.
Stamford also has a popular senior's tournament, the Belantonio Cup — honoring a beloved senior member of the league.
5. ST. HELENA'S PARK
St. Helena, in Northern California, is the home of a robust league with 100+ teams and 800+ weekly players.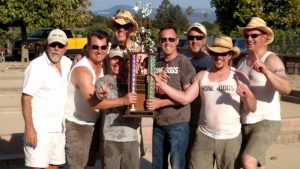 The St. Helena Bocce season is 17 weeks played in the spring and summer, with bocce played 6 nights a week (along with Friday mornings during their Farmers Market).
There are 17 registered bocce teams per night.  It is an extraordinary example of how bocce, played in a town center — defines the joy of community in St. Helena.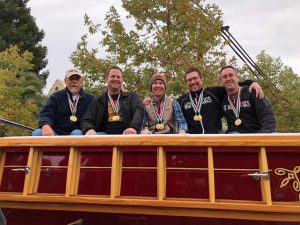 6. CONCORD BOCCE LEAGUE
Concord, a town Northeast of San Francisco, is the home to a fantastic park bocce league — with play at Newhall and Baldwin Parks.
They play 6 days a week, with 500+ players enjoying the competition and social joys of bocce.
It's a wonderful example of how a park can use an activity to create a regular and consistent 'place of gathering' in an outdoor environment.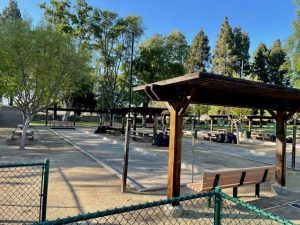 Blank
Your content goes here. Edit or remove this text inline or in the module Content settings. You can also style every aspect of this content in the module Design settings and even apply custom CSS to this text in the module Advanced settings.
1. MAJOR LEAGUE BOCCE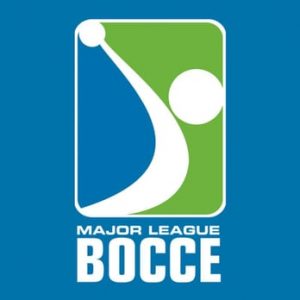 Major League Bocce is a fantastic organization that organizes leagues in 10 cities across the country, with tens of thousands of players — with an average age of 29.
DC Bocce League was founded by a group of pals in 2004 on Capitol Hill in Washington, DC.  They wanted to create a way for friends their age to play a social sport that aligned with their lifestyle — and that you could enjoy with a drink in your hand.  In the blink of an eye, they had 5,000 players coming every week to parks and bars.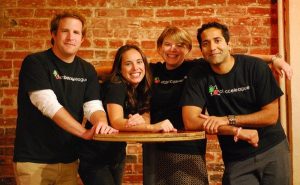 With that enormous growth and interest to this targeted demo, Major League Bocce was formed.  They're now in 10 cities — and growing.
In many cases, Major League Bocce goes into bars in cities and puts in 'temporary' courts right in their bars — on a bars' off-nights.  Major League Bocce creates the leagues — and, in an instant, those off-nights turn into the most profitable nights for bars and restaurants.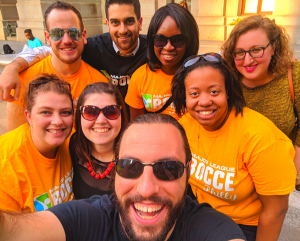 Their motto is that it's easy to play, and that bocce creates a space for players, often with a drink in hand, to engage in friendly, casual competition.  The league instantly attracts an assorted group of people in their 20's and 30's looking for an excuse to share a new meet-up experience.
What do you need Tinder for when you have Major League Bocce?
Congrats on your incredible story of growth and happy.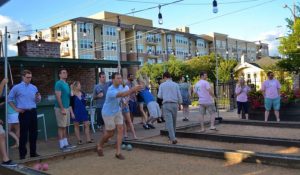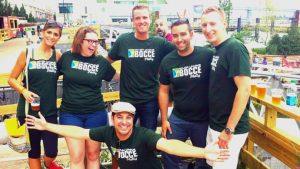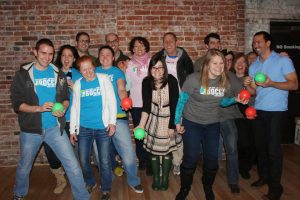 2. SPECIAL OLYMPICS
Bocce is one of Special Olympics' most popular sports, with 216,000 Special Olympic athletes competing last year!
Bocce, as a Special Olympics sport,provides people with special needs the opportunity to have social contact, develop physically and to gain self-confidence.
There are 162 Special Olympic Programs around the world that participate in Bocce competitions.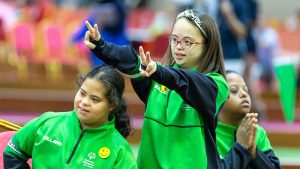 They play singles, doubles, team competition (with 4 players), Unified Sports Bocce Doubles (2 players/team), and Unified Sports Bocce Team (4 players/team).
Athletes in every sport and event are grouped by age, gender, and ability – giving everyone a reasonable chance to win. At Special Olympics there are no World Records because each athlete, whether in the fastest or the slowest division is valued and recognized equally. In every division, all athletes receive an award, from gold, silver, and bronze medals, to fourth through eighth-place ribbons.
This idea of equal ability groupings is the foundation for competition in Special Olympics and can be witnessed at all events, whether it's athletics, aquatics, table tennis, football, skiing, or gymnastics.
All athletes are given an equal chance to participate, perform, and be recognized for doing their best by their teammates, family, friends, and fans."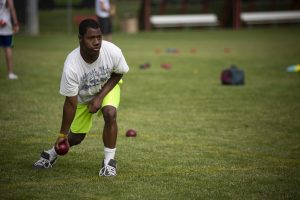 3. SOUTHWEST FLORIDA LEAGUE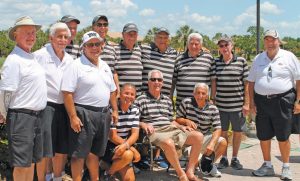 Southwest Florida Bocce League is a fantastic inner-community league of 24 residential communities — create extraordinary engagement for its senior citizens.
It was started in 2007 by Neil Albert of Bonita Bay and Tom Betts of Pelican Landing; two of the communities. There were eight teams competing that year — quickly growing to 24 communities.
The town of Bonita Bay, as an example, started with 8 player.  They now have 614 community residents playing in the league.
League members have found camaraderie and enjoyment to be more important than winning.  In her letters and email communications, Victoria Maione always closes with her favorite phrase, "Let's keep rolling in friendship and fun."
Creating a sense of 'belonging' through bocce.  Celebrating community.  That's the Southwest Florida Bocce League.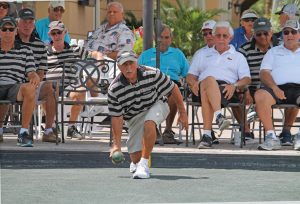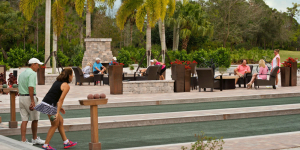 4. AMERICAN BOCCE CO.
American Bocce Co. is a grass-roots group of social sport entrepreneurs bringing communities, work places, friends, and families together through the timeless sport of bocce.
After building bocce courts on vacant city lots in Chicago in 2013, their 'aha' moments were discovering: 1) That it has the incredible power of bringing people together, and 2) The sport may have suffered from a stigma of exclusivity.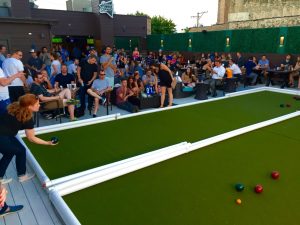 They focused our attention towards community-developing and inclusiveness.  They found a newfound popularity and resurgence in the social sports market.
While competitive, ABC is more social than sport. There is a nearly equal split of men and women in the leagues, and an incredibly high retention rate in teams is the result of opponents become friends over time.
In 2016, they introduced the sport to Carnival Cruise Lines and outfitted 18 ships across Carnival's fleet in the U.S.
They've worked with chapters of Special Olympics all over the world, they've hosted hundreds of corporate events and tournaments, and most importantly, introduced social leagues to cities across the U.S.
They are committed to growth and bringing bocce to more and more towns…
Cheers to America Bocce Co.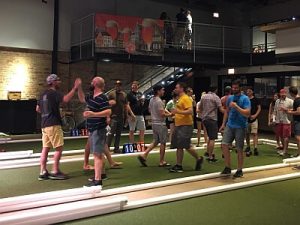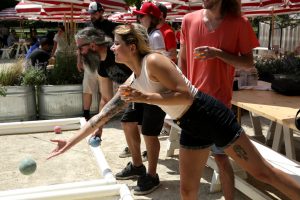 Bocce is wildly hitting such a nerve with every imaginable age group in America — because of a yearning for real relationships.  For a sense of belonging.
USA BOCCE'S LONG-TERM STRATEGIC PLAN

ORGANIZATIONS
Engage and service country clubs, park federations, hotels, and bocce venues – facilitating revenues-generating bocce events and participation.

PROFESSIONALS
Engage and train Athletic and Activity Directors at organizations to be USA Bocce Certified Professionals; and to evolve into the nation's gold standard.

PLAYERS
Provide services and products to bocce players across America; including creating national, regional and local leagues and events.

GAME
To be the respected leader at the epicenter of the rules and culture of bocce, while driving and defining the future and growth of bocce in America.

BUSINESS
Drive financial and brand health of the organization to maximize the value for our members and initiatives.
CHECK OUT the "Bocce Bros" PODCAST
ON SPOTIFY, YOUTUBE & FACEBOOK
Four great guys' from Ohio — on all-things bocce.
theboccebros.com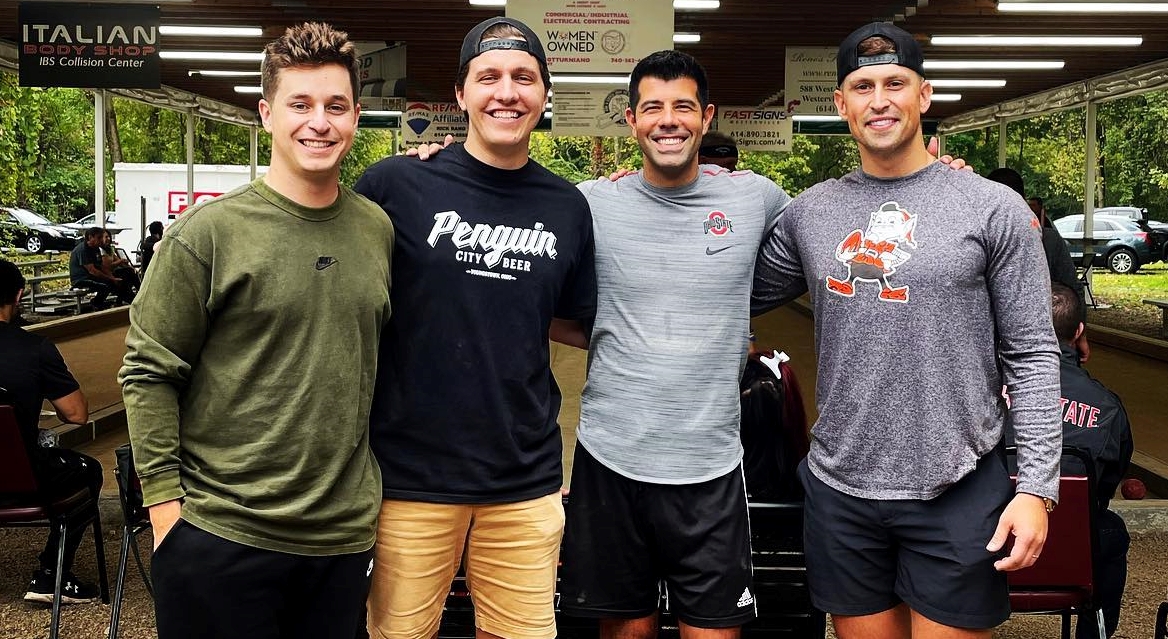 GET AN OFFICIAL USA BOCCE HANDICAP
Very exciting announcement about rollout coming soon…